Tunisian Chemical Society
Tunisian Chemical Society Conference on Coordination Chemistry
11-14 May 2017, Bell Azur Hotel, Hammamet - TUNISIA
Participants from outside Tunisia
The registration fees for JCC 2017 includes full board accommodation during 3 nights (double occupancy) in Bell Azur Hotel including breakfasts, lunches and coffee breaks. Participants will also be allowed to attend all scientific sessions and will receive the booklet of abstracts of the symposium.
Children (2 to 12 years) *
* staying in the parents' room.
By bank transfer of the dollar/euro amount on behalf of the Société Chimique de Tunisie -
Tunisian Chemical Society
Bank Name: Banque de Tunisie
Account number:
RIB: 0500 3000 0073 0352 1009
IBAN: TN59 0500 3000 0073 0352 1009
Please email a scan of the transfer order to: amine.mnif@gmail.com
(In some special cases there is a possibility of paying the registration fees at the hotel)
Registration &
abstracts submission's deadline extended to
3 April 2017
Acceptance:
No later than
15 April 2017
Deadline of
Fees Payment
24 April 2017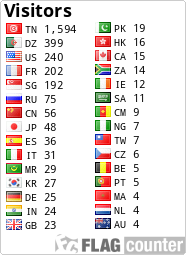 Second Tunisian Chemical Society Conference on Coordination Chemistry
11-14 May 2017, Bel Azur Hotel, Hammamet - TUNISIA
Copyright 2016 - Powered by: Société Chimique de Tunisie - © All rights reserved