Tunisian Chemical Society
Tunisian Chemical Society Conference on Coordination Chemistry
11-14 May 2017, Bell Azur Hotel, Hammamet - TUNISIA
The activities of the Second Tunisian Chemical Society on Coordination Chemistry - JCC 2017 - will be held at Bel Azur Hotel situated in Hammamet area in the North East Seaside of Tunisia. Welcoming participants, distribution of documents and check in will start on Thursday 11 May 2017 from 2.00 pm till 4.00 pm, and for latecomers on Friday 12 May 2017. Check out will be on Sunday 14 May 2017 after lunch.
Located on the gulf of same name and 60 km from Tunis capital centre and Tunisia International Airport, Hammamet city is a Station winter and seaside resort of more than 130 000 inhabitants. Hammamet attracts each year a crowd of Tunisians and foreigners tourists. It must this trend to the mild climate (average winter temperature 15°C with extremes of 9°C and 20°C) as well as to its hotelier's equipment which is one of the most complete in Tunisia. It is also a craft centre of weaving of fabrics and manufacturing of embroidery and lace. Hammamet is also the largest production area for citrus.
The locality is composed of several separate quarters: the old town, surrounded by the ramparts in edge of the beach; the new city behind the old one; the district of the train station, approximately 1 km of the centre, and the hotels' area, located 2 km away of the old city. Yasmine Hammamet, a new modern extension touristic area, has developed toward the south. It houses of Congress centres, distractions and luxurious hotels.
With its ramparts and its kasbah which dominates the side of the beach, Hammamet has a lot of character and deserves a visit. you must not seek there important elements of architecture, although it keeps venerable monuments; but just feel the charm of its tortuous alleys which offer lovely pictures of a life flowing at a Mediterranean peace.
Registration &
abstracts submission's deadline extended to
3 April 2017
Acceptance:
No later than
15 April 2017
Deadline of
Fees Payment
24 April 2017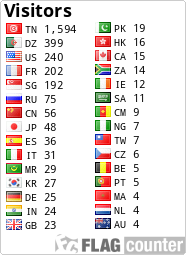 Second Tunisian Chemical Society Conference on Coordination Chemistry
11-14 May 2017, Bel Azur Hotel, Hammamet - TUNISIA
Copyright 2016 - Powered by: Société Chimique de Tunisie - © All rights reserved