Tunisian Chemical Society
Tunisian Chemical Society Conference on Coordination Chemistry
11-14 May 2017, Bell Azur Hotel, Hammamet - TUNISIA
The activities of the Second Tunisian Chemical Society on Coordination Chemistry - JCC 2017 - will be held at Bel Azur Hotel situated in Hammamet area in the North East Seaside of Tunisia. Welcoming participants, distribution of documents and check in will start on Thursday 11 May 2017 from 2.00 pm till 4.00 pm, and for latecomers on Friday 12 May 2017. Check out will be on Sunday 14 May 2017 after lunch.
The conference will feature plenary (40 minutes) and invited (30 minutes) lectures, contributed oral (10 min presentation followed by a 5 min discussion) and poster presentations. The official symposium languages is English without simultaneous translation.
A booklet containing all abstracts of lectures and papers will be distributed to participants.
Click on the icon below to view the program of JCC 2017 or to download it (New update of Monday 08/05/2017 - 05:30).
Registration &
abstracts submission's deadline extended to
3 April 2017
Acceptance:
No later than
15 April 2017
Deadline of
Fees Payment
24 April 2017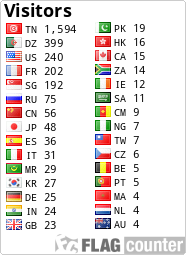 Second Tunisian Chemical Society Conference on Coordination Chemistry
11-14 May 2017, Bel Azur Hotel, Hammamet - TUNISIA
Copyright 2016 - Powered by: Société Chimique de Tunisie - © All rights reserved